Helicopter, Drone & Aircraft Transportation Services
Aircrafts are heavy, bulky, and difficult to move when not in the air. But delivering an aircraft isn't as simple as filling the gas tank, finding a pilot, and flying it to its destination. Transporting heavy aircraft of different sizes requires skill, communication, and a trustworthy carrier to get the job done right. At Next Exit Logistics, our shipping professionals help to arrange all the details of your aircraft move, no matter how big or small the job is. We customize every job to fit your needs to ensure your aircraft arrives safely, on time, and to the destination you need it.
Streamlined Aircraft Transport Solutions: Simple Start to Finish Process
Working with Next Exit Logistics starts from the moment you contact us. When you first speak with our professionals about your Aircraft on Ground (AoG) shipping needs, you'll discover quickly that our team is attentive to your needs and understands the impact to you and your customers when it comes to your grounded aircraft. Getting your aircraft to its destination is more than delivering your property; it is keeping your business moving forward and meeting the needs of your clients. Whether your entire aircraft needs shipping or you are waiting for the delivery of the jet engine to repair your grounded aircraft, our team moves efficiently from start to finish to get the job done.
Step 1: Consultation
Contacting Next Exit Logistics starts with a full consultation about the job you need to be completed. Our professionals know the right questions to ask to fully understand the needs you have in order to prevent any hiccups from occurring in the shipping process. We figure out where the aircraft is and how to get it to you. We also identify the type of aircraft and tailor the shipment to it. In addition, we know that helicopters, planes, and drones all require different skill sets.
Step 2: DFY Aircraft Transportation Planning
Once we identify your unique needs, we put into motion the plan to get the job done right. We identify the route needed, the background clearances necessary, and the permits required to get the aircraft where you need it to be. Our team handles everything from start to finish to keep you worry and stress-free about the delivery of your aircraft.
Step 3: Personalized Carrier Selection for Any Aircraft
Next Exit Logistics has partnered with a diverse network of carriers that have the knowledge and experience to deliver your product in a timely, safe manner. We vet all of our carriers to ensure they can deliver top-notch service and have a track record we can trust. Your clients trust you to get the job done right, which is why you employ highly trained professionals. We take the same approach to our work and only work with the carriers that represent the type of customer satisfaction we expect.
Step 4: Helicopter Shipping & Transportation
With our full-service delivery, we can disassemble and assemble your aircraft prior to shipment and upon delivery. There is no need to inconvenience your crew when we can ensure that your shipment is not only secure but delivered to you fully functioning. We take pride in delivering safe and functioning products, which is why we take the extra steps to ensure your satisfaction.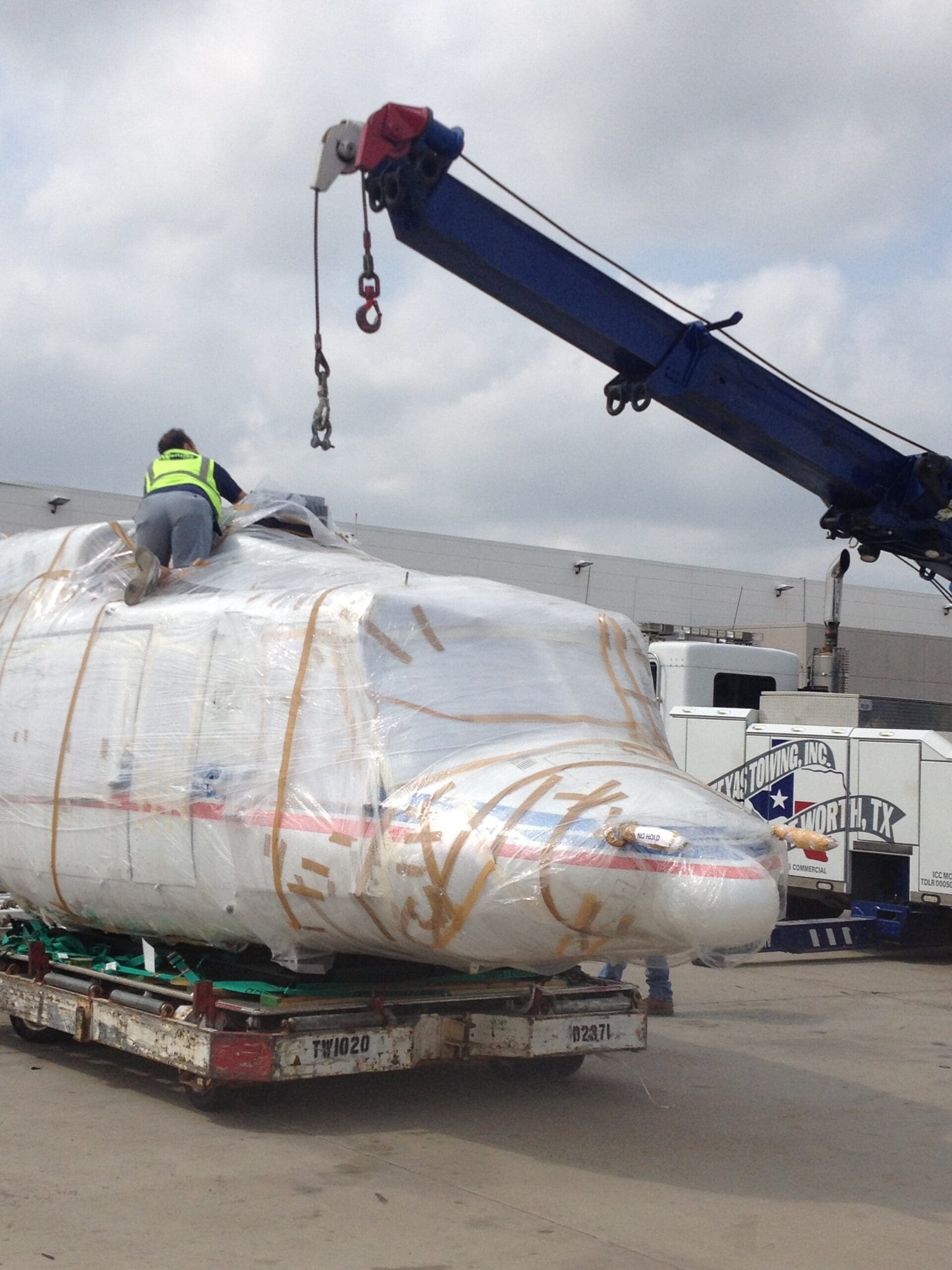 Efficient Aircraft Transportation Services: Get Your Heavy Equipment Moving with Us
Next Exit Logistics is a full-service, heavy equipment delivery service that handles all the logistics to ensure the needs of your business are met. Whether you have a construction site that needs a heavy crane or you are from the Department of Defense and need an aircraft delivered to a secure location, our team can handle any size job. Our logistics experts have worked in the industry for years and know what is needed to ensure the safe and secure delivery of your heavy equipment. From full-size aircraft to heavy, bulky, or awkward shaped parts needed for repairs or assembly, our team has the tools and resources needed to get the products to you.
Aircraft Engines
Hauling jet engines takes a vast amount of resources and technology. With our team of shipping partners, we can get your engine to you from anywhere around the globe safely and efficiently.
Aircraft Shipping
Working with both public and private airlines, our team can help ensure your aircraft is shipped efficiently on the ground to get your business back off the ground. We know the longer your plane sits on the tarmac not flying in the air, the more it costs you and your business money and valuable customers. We work to do our part in helping to minimize this impact.
Helicopters
Helicopters present a unique shipping challenge with much disassembling required. However, for client from to private sector to the military, our logistics team can successfully coordinate the safe delivery of your helicopter. We pick the most optimal routes and secure the right permits to ensure a smooth delivery experience.
Drones
As a top-rated aircraft freight broker, we can deliver your drone from manufacturer to delivery location. No matter where it is across the globe, our team uses our network of carriers to bring your drone to you where you need it, whether it is private or military. The success of your mission depends on the success of ours, which is why we have built a foundation on quality service.
Next Exit Logistics Aircraft Transportation Services
Whether you need heavy equipment to function on the ground or in the air, our logistics experts can get it there. We have built a reputation in the heavy equipment shipping industry and are centered on our customer's satisfaction. We take care of all the details so you can stay stress and worry-free. If you have heavy equipment shipping needs, contact Next Exit Logistics today.